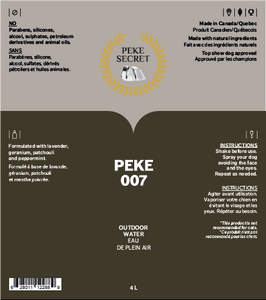 BAG 007
The PEKE 007 is an open-air water in the secret service of your companion.
Lovers of great outdoor adventures, make this experience more enjoyable for your companion thanks to our outdoor water
Use in combination with the ''Take a Kayak'' natural shampoo to make the most of hours of guaranteed outdoor fun!
Made with: lavender, geranium, patchouli and peppermint.
Free of parabens, silicones, alcohol, sulphates, petroleum derivatives and animal oils.
Available in format: 250 ml / 500 ml / 4 L
Manual
SHAKE WELL BEFORE USING. Spray on animal as needed
 Do not use on cats