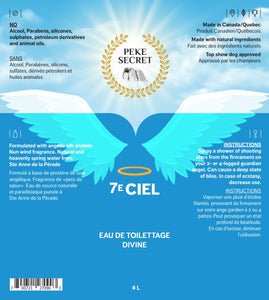 7e ciel
 Look no further, it's just fun!
Available in format: 120 ml / 250 ml / 4 L
Manual
Spray a shower of shooting stars from the firmament on your 2- or 4-legged guardian angel. Can induce a deep state of bliss.
In case of ecstasy, decrease the use.
Formulated with angelica silk protein. Fragrance of "sister pets". Natural and heavenly spring water drawn from Ste Anne de la Pérade.