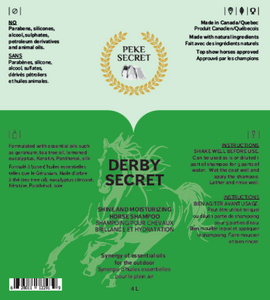 DERBY SECRET
Your proud steed also has the right to aspire to the best possible skin care thanks to Derby Secret, our equine shampoo made with natural and high-performance ingredients!
The pH of a horse's skin has nothing to do with that of a human being, nor of a dog/cat in terms of acidity, it is for this reason that it is imperative to use a shampoo formulated exclusively for them.
Our equestrian version of our Peke Secret philosophy aspires to combine complete hydration and radiant luster thereby enhancing the natural colors and pigments of your horse's skin. The Secret Derby has also set itself the mission of being a powerful, gentle degreaser and a fierce "dislodger" of stubborn dirt without ever irritating your companion's sensitive skin. Add to this already complete recipe a tool to protect your horse from the unpleasant effects of the outside world and thus make your hikes fabulous and your periods of relaxation in the pasture memorable.
Derby Secret is therefore a safe ally for your horse since it combines in a single shampoo everything you need to take care of and protect skin that is confronted with the increasingly aggressive elements of our environment.
Horses are noble and proud animals combining intelligence, instinct, physical strength but also fragility, sensitivity and gentleness... Why not treat their skin and their mane with the respect that we owe to this giant with a heart of gold who since millennials share our lives... They also deserve to know the Secret...
Ingredients: Essential oils such as Geranium, Tea tree oil, lemon eucalyptus Keratin, Panthenol, silk. 
Free of parabens, silicones, alcohol, sulphates, petroleum derivatives and animal oils.
Available in format: 500 ml / 4 L
Manual
SHAKE WELL BEFORE USE. Can be used as is or diluted 1 part shampoo to 5 parts water. Wet the coat well and apply the shampoo. Lather and rinse well.